AFTR Ankle Brace
Login For Dealer Pricing
Product Attributes
AFTR Ankle and Foot Trauma Rehabilitation
The Bio Skin AFTR provides compression and stabilization following ankle sprains, other ankle injuries, and foot or ankle surgeries. The AFTR is made from material which is thin and breathable and contours perfectly to the anatomy of the ankle, providing excellent compression to remove swelling, decrease pain, and speed recovery.
The Bio Skin AFTR provides support and stabilization for the treatment of a wide range of foot and ankle injuries. It is also an effective solution for ankle pain in the immediate aftermath of a sprain.
The brace combines stabilization with the high level compression for which Bio Skin materials are known. It includes medial and lateral plastic stays as well as figure-8 stirrup straps to limit ankle and hindfoot movement and thus promote more rapid healing.
The AFTR is designed to contour to the surface of the skin even through the volume changes that can occur following injury and surgery.
The AFTR's micro fleece lined Ultima 2SL™ material features a Velcro-compatible surface to enhance compression and flexibility in anchoring and closures. Like all Bio Skin materials, Ultima 2SL™ is hypo allergenic and is also 100% neoprene and latex free, thus eliminating any risk of allergic or other adverse reactions.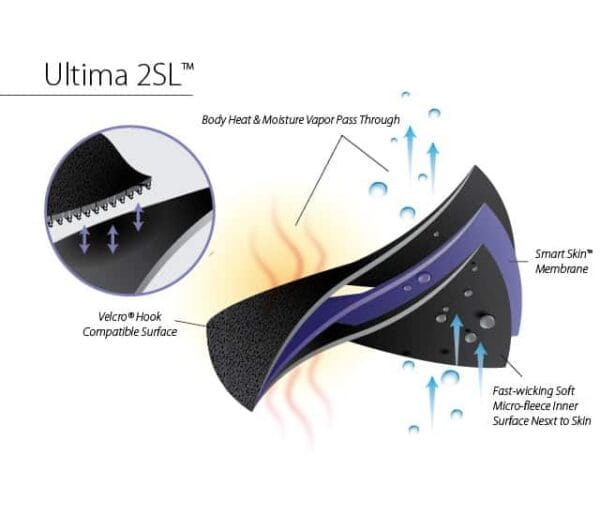 The Bio Skin AFTR ankle brace incorporates the SkinLok™ feature. This increases adherence to the skin in the presence of perspiration, thus reducing slippage during periods of intense physical activity. As a result, the brace will remain firmly in its intended position and will continue to apply compression to the appropriate area. The brace will therefore continue to be effective in reducing pain and promoting healing while your patients pursue their normal activities.
Bio Skin AFTR – Features and Benefits
Simple Application
Includes medial and lateral silicone gel pads behind the malleoli
Trimmable in length
Ideal for patients with less swelling
Indications
Peroneal / Post-Tib Tendon Repair
Lateral Ankle Repair
Fusions: Midfoot, Hindfoot or Ankle
Total Ankle Replacement
Ankle Sprains
Bunionectomy
Forefoot Procedures
Hindfoot Arthritis
Please
login
to post questions